​According to the newly launched Vietnam Employment Outlook Survey, employers, both international and local, in various sectors are expecting their hiring intentions to boost in the first two quarters of 2022 as the economy is gradually recovering.
The survey has revealed up to 93% of the surveyed companies have recovered from the pandemic with 50% or more activity recovered, while only 7% said that their business operations remained affected, or even being suspended.
​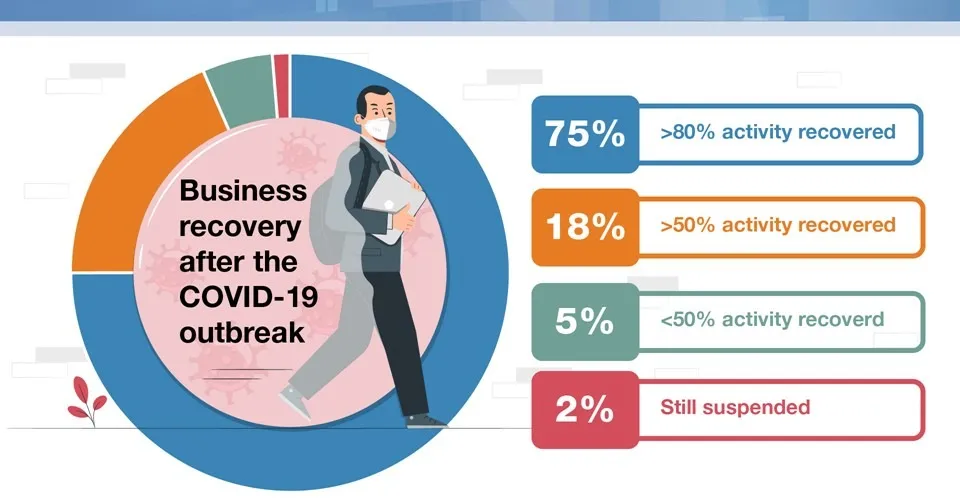 ​
​
Experiencing the four pandemic outbreaks, Vietnamese businesses have learned to adapt and respond more flexibly to achieve the dual goals of effective disease prevention and economic development. Most recently, the World Bank said in the Economic Update for Vietnam: "Vietnam's economic recovery is likely to accelerate in 2022 as GDP growth is expected to rise to 5.5% from 2.6% in 2021".
Positive economic outlook gives employers in Vietnam more confidence to recruit in the first half of 2022 as compared to last year. In total, 95% of the surveyed enterprises plan to increase or at least maintain the current headcounts as compared to 80% of the equivalent index in the second half of last year. Only 5% of the respondents announced their plan to trim hiring activities.
​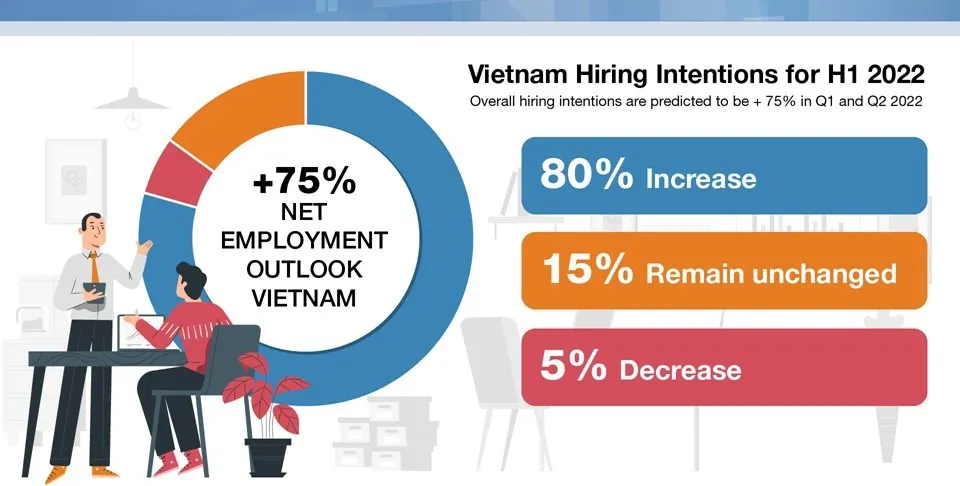 ​
​
Ms. Nguyen Thu Trang, Country Sales Manager, ManpowerGroup Vietnam, shared that "Amid the acute talent shortage after economic re-opening, we are noticing a great demand in permanent recruitment and executive search in various sectors, especially in trading, ICT, technology, real estates and manufacturing. Noticeably, as corporate's social and environmental responsibility are becoming increasingly important besides economic development goals, the job market is seeing a boost in demand for positions in renewable energy."
In tandem with the business growth, employment activities are on the way to recovery to pre-COVID-19. Almost two-thirds (59%) of the employers said that their hiring activities had fully recovered, followed by about 32% expecting their recruitment plans to increase within the next three to six months. Strongest recruitment intentions were reported in Wholesale, Retail & Trading, Information and Communications Technology (ICT), Professional Consulting Services, Manufacturing & Processing, Real Estate, Healthcare & Life Sciences and High Technology.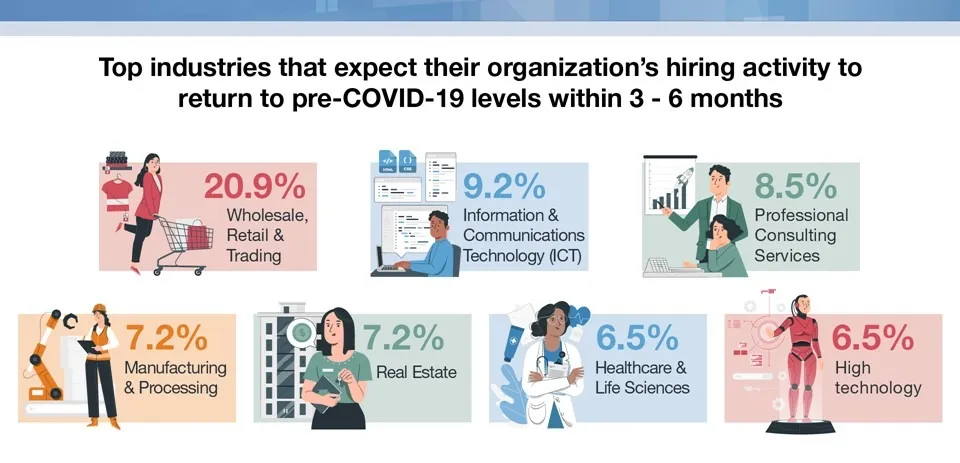 ​
"The Government's economic reopening policies and COVID-19 vaccination program are creating growth momentum for the business community in Vietnam. Industries such as manufacturing, warehousing and logistics are witnessing strong revival and expected to attract almost the entire workforce back to the cities after the Lunar New Year holiday. Currently, ManpowerGroup Vietnam has received numerous orders for staffing and outsourcing services from domestic and foreign enterprises, especially in the e-commerce, food processing, electrical and electronic manufacturing, transportation and logistics, etc.", said Mr. Nguyen Xuan Son, Operation Manager, Staffing and Outsourcing Services, ManpowerGroup Vietnam.
In an attempt to keep the employees safe while maintaining effective business operation, employers are turning to hybrid work model as a rising trend in the new normal. In the next three to six months, more than half (51%) of the surveyed enterprises plan to apply hybrid work for their staff, and about over one third (38%) of them want to retain the absolute work-place based model. Particularly, hybrid work is also preferred in industries that have traditionally required a high level of workplace presence such as Wholesale, Retail & Trading (53%), Professional Consulting Services (69%), and ICT (47%).
​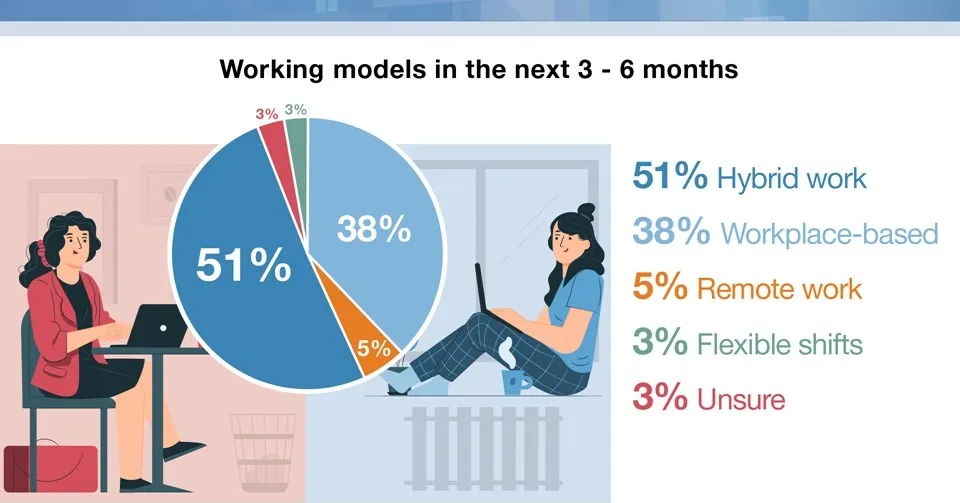 ​
Facing the acute talent shortage as the economy reopens after lockdowns, when asked which human resource services they plan to use, surveyed employers chose Executive search & Permanent recruitment as the best solutions with the opting rate of 36%. Meanwhile, a considerable rate of the employers (34%) opted for Staffing & Outsourcing and Expatriate services (work permit and visa application).
​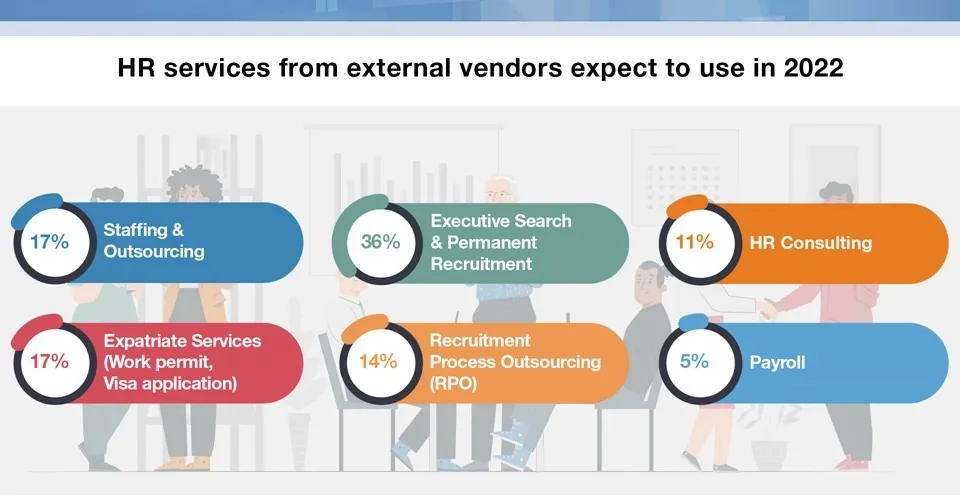 ​
About the survey
Vietnam Employment Outlook Survey Q1 Q2 2022 was conducted by ManpowerGroup Vietnam on 153 employers in 21 industries nationwide from November 30th to December 31st 2021. The respondents were Human Resources Managers, Talent Acquisition Managers, business owners and HR Specialists in diverse industries, namely Wholesale, Retail & Trading, Textile & Footwear, Information & Communications Technology, Professional Consulting Services, Construction, etc.
About ManpowerGroup
ManpowerGroup® (NYSE: MAN), the leading global workforce solutions company, helps organizations transform in a fast-changing world of work by sourcing, assessing, developing and managing the talent that enables them to win. We develop innovative solutions for hundreds of thousands of organizations every year, providing them with skilled talent while finding meaningful, sustainable employment for millions of people across a wide range of industries and skills. Our expert family of brands – Manpower, Experis and Talent Solutions – creates substantial value for candidates and clients across more than 75 countries and territories and has done so for over 70 years. We are recognized consistently for our diversity - as the best place to work for Women, Inclusion, Equality and Disability. In 2021, ManpowerGroup was named one of the World's Most Ethical Companies for the twelfth year - all confirming our position as the brand of choice for businesses, partners, and in-demand talent.